Although the summer months are behind us, we should always be aware of the damage caused by UV rays all year round. Currently, skin cancer is the most common cancer diagnosed on the island of Ireland. (HSE, 2022) Each year, at least 13,000 cases are diagnosed in Ireland, with this figure expected to double in the coming years. (NCRI, 2022) Our skin is the largest organ in the human body, therefore, we need to ensure we protect our skin correctly. 
Wear SPF/ Suncream Daily: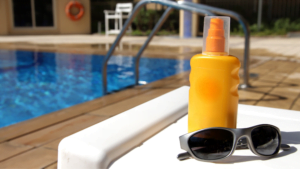 A broad spectrum SPF of at least factor 30, that protects against UVA and UVB rays, should be worn daily, even when it's raining, overcast etc. We are able to get sunburnt even on a cloudy day that is why SPF is a daily essential. SPF is commonly found in many make-up and moisturising products, nowadays. If in direct sunlight, suncream with at least SPF of 50+ for children and at least 30+ for adults should be used. 
The common areas that people tend to forget to apply sun cream/SPF to their hands, nose, ears and lips. UV rays reflect off reflective surfaces such as water, sand and even snow, which highlights the need to wear SPF all year round.
Wear Protective Clothing and Sunglasses:
When in direct sunlight, clothing should cover exposed areas of skin i.e. a long sleeved top, along with a wide-brimmed hat to protect the scalp and cover the face. UV protection sunglasses should be worn to protect our eyes from UV damage. Newborns and children have extremely sensitive skin, which requires all exposed skin to be covered and suncream to be applied daily to children.. 
Seek Shade:
When in direct sunlight, ensure that you seek shade during the hours that UV rays are strongest and most harmful, which is usually between 10am and 4pm. Try to avoid direct sunlight as much as possible. 
Avoid Tanning Beds and UV lamps:
These types of services are extremely damaging to our skin and can contribute to increasing the risk of skin cancer. Although many people like to have tanned skin, a tan signifies that the body is trying to stop the skin from further skin damage. 
Sunbeds project UV rays on the skin that can be up to fifteen times the strength of the Mediterranean sun. Your risk of developing melanoma, the most serious form of skin cancer, is increased by 20% if you have ever had a sunbed. (Irish Cancer Society, 2022) Currently, research is being carried out to determine the risks associated with UV lamp curing used in gel manicures and pedicures, however, the research is inconclusive at present. (Schwartz et al., 2020) This area does require more research, but a broad spectrum SPF is recommended prior to gel manicures and pedicures for skin protection. 
Check Your Skin:

Always keep an eye on your skin and get any skin concerns checked by your GP. Changes to moles, skin growths, beauty marks or brown spots may be an early indication of skin cancer. Unfortunately, in Ireland, we do not have a national skin cancer screening service available. The only way to be aware of skin cancer is to screen your body for any changes and get them checked by your GP.
Often, we forget about the risk of UV rays all year round, not just when we are on holiday or when we get sunny days in Ireland. Many cosmetic brands are including SPF in their products which is a step in the right direction. Remember, your skin needs protecting everyday, especially on skin that is exposed. 
Dental Insurance from the Dental Experts
Protect your smile today with great value Dental Insurance.
All of our plans are based on our Healthy Smiles approach, which promotes regular and sustained preventive care by providing 100% cover for examinations, cleanings, and x-rays.
Our Level 2 Healthy Smiles plans have additional cover with 70% cover for fillings, extractions and treatment of gum disease.
Our Level 3 Healthy Smiles plans have additional cover with 60% cover for root canals, crowns, veneers and more.
Our Level 4 Healthy Smiles plan has cover for orthodontic treatment, subject to terms and conditions.