DeCare Dental is always looking for new innovations and services to enhance our member experience. DeCare is excited to bring a new innovative service, Emergency Teledentistry to our members, as an option for managing dental emergencies for when they are unable to attend a dentist in person.
What is Emergency Teledentistry?
Emergency Teledentistry is the remote facilitating of the management of a dental emergency through expert guidance and education via the use of information technology instead of direct face-to-face contact between dentist and patients. Reduce the stress of your dental emergency from the comfort of your own home using Emergency Teledentistry Service provided by DentalTech Group.
A mobile device with a camera and a steady internet connection is all you need.

To arrange your appointment simply call
01 4551866
Monday to Saturday
8.30am - 5.30pm.

Have the following information ready before you call:
1. DeCare Dental Policy number
2. Preferred pharmacy details (if prescription is required)
Emergency Teledentistry FAQ's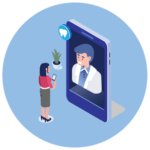 Emergency TeleDentistry for DeCare Dental Members
Disclaimer: DeCare Dental confirms that it has validated that the dentists providing this service are registered with the Dental Council and are suitably indemnified to practice dentistry in Ireland. However DeCare Dental is not a party to any contract for the provision of services between you and Dental Tech Group and therefore disclaims any and all liability including any express or implied warranties whether oral or written for such services and makes no representation as to the suitability of the services provided.