Tough Mudder is the premier adventure challenge series in the world. Founded in 2010, by Americans Will Dean and Guy Livingstone, the military-style, obstacle-filled, team-oriented event has proven hugely popular, with millions competing annually in various countries across the globe.
The focus of Tough Mudder is to promote teamwork. Participants are not timed and instead work together as a unit while undertaking a physical and social activity. It offers entrants a rare opportunity to participate in a fun environment with work colleagues, friends or families. It helps groups overcome fresh challenges and poses questions of a team's mental and physical strength.
Last month, Tough Mudder Ireland took place in Loughcrew Adventure Centre, Oldcstle, Co. Meath. DeCare Dental Insurance Ireland (an official sponsor of the event) employees decided to group a spirited team together to take part. All moneys raised by the staff went to DeCare Dental charity of the year, ChildLine.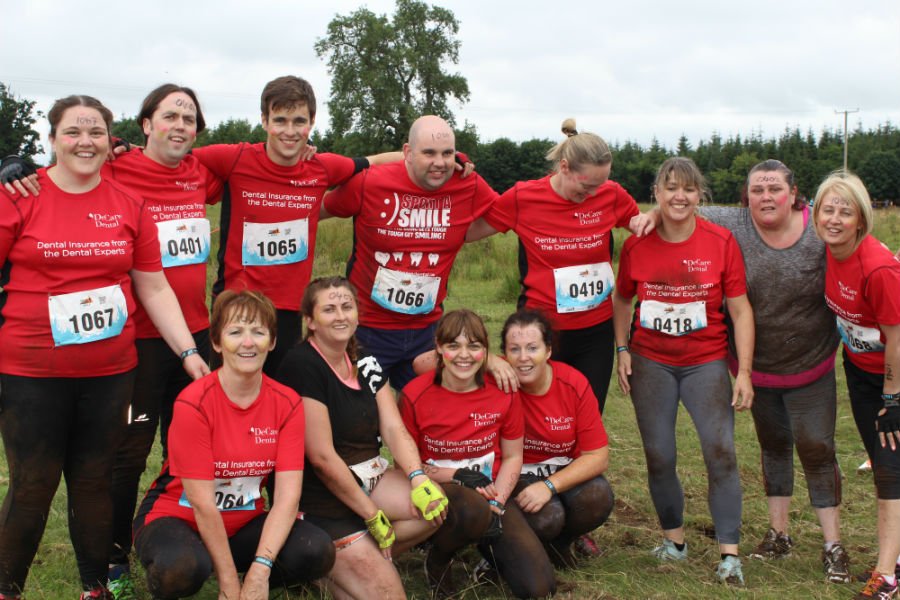 Team DeCare participated in the 'Tough Mudder Half' challenge. Here they encountered a demanding 5 mile course where the group worked together to navigate their way through a variety of obstacles and hazards that were certainly not for the faint-hearted! The aptly named 'Block-Ness Monster' and 'Everest' were some of the many hurdles overcome by the team on course. The team also had to conquer the DeCare Dental sponsored 'Kiss of Mud' obstacle. All members completed the 5 mile event and crossed the finishing line as a team together. The ethos of teamwork over finishing positions was something that attracted the staff from DeCare to Tough Mudder. The sense of camaraderie and achievement were the over-riding emotions of Team DeCare after completing the course.
The organisers admit that Tough Mudder is challenging even for the fittest of competitors; but insist that the course is achievable for people of all backgrounds – if they work together as a team! For individuals that crave a greater challenge there is the option of the 'Tough Mudder Full' which is an energy sapping 10-12 mile course containing an even greater amount of obstacles and hazards.
This event offers the opportunity to interact with various corporate groups. Nowadays companies are putting a much higher emphasis on corporate wellness for their staff and non-competitive team-based events like Tough Mudder are ideal ways to encourage staff to keep healthy while having fun.
DeCare Dental Insurance Ireland is delighted to sponsor this terrific event that encourages so much that is positive about teamwork and healthy living. For further information on all things, Tough Mudder visit their website www.toughmudder.ie.
Well done to all that took part!