Tips for parents
It is important for your child to get a good start in life from the earliest age. In order to learn new things, your child needs to feel healthy and strong. Preventing tooth decay is proven to help your child's progress in early childhood promoting both learning and good overall health.
When your child is a baby, it is important that they have a healthy mouth and gums, free from pain and discomfort. From birth to around 6 months old, dental professionals recommend cleaning your baby's gums and teeth with a strip of gauze dipped in warm water.
From around 6 months to 2 years old, the process changes slightly and your child will begin teething. As the first tooth comes in at around 6 months, it is important to clean the teeth and gums with a soft children's brush and warm water.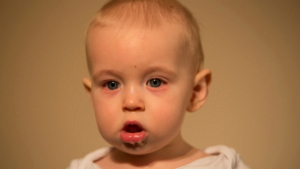 Teething signs:
Having red, flushed cheeks.

Excess dribble – wipe this away from the skin as it can cause a rash.

Chewing on fists/toys more than usual.

Have tender gums.

Cry more.
If your child experiences the following symptoms (these are not caused by teething), contact your GP or public health nurse:
High temperature.

Diarrhoea.

Definite change from usual form to a more listless.
It can be stressful on parents, especially first time parents, watching a baby in discomfort from teething but this is a normal part of child development and it will pass.
Teething Rings
It is known that teething rings can be a great aid to soothing your baby's gums. It is important to note though that the rings you use need to be big enough so the baby won't try to swallow. Keep a spare one in the fridge and never tie the ring around the neck, as it can cause an accident. It is advised never to put the rings into the freezer as the temperature can be damaging to your baby's gums. 
Other helpful methods include:
Give them cold water to drink – it will soothe their gums as well as keeping them hydrated.

Mild, sugar-free pain relief should only be used as a last resort.
A survey of children's dental health in Ireland found nearly half of all children under 5 have decay in their baby teeth. According to the European Academy of Pediatric Dentistry (E.A.P.D.), the earlier a child starts visiting the dentist for preventive visits, the better the chance of avoiding dental problems completely. Bring your child to see the dentist before his/her 1st birthday and discuss introducing the use of fluoride toothpaste as part of a dental hygiene routine. It is good to get them used to the idea of visiting a dentist from an early age. 
A dentist will also be able to advise you on how best to look after your young children's baby teeth, and spot the early signs for problems that may occur later. It is crucial that children should feel comfortable and relaxed so that subsequent visits are also stress-free.
Establish a regular yearly visit from there on, or more frequent if your dentist recommends it because of the presence of higher risk factors with your child. As your child gets older, find out when school dental screenings take place in your area and ask the school dentist about fissure sealants for your child. 
Dental Insurance from the Dental Experts
Protect your smile today with great value Dental Insurance.
All of our plans are based on our Healthy Smiles approach, which promotes regular and sustained preventive care by providing 100% cover for examinations, cleanings, and x-rays.
Our Level 2 Healthy Smiles plans have additional cover with 70% cover for fillings, extractions and treatment of gum disease.
Our Level 3 Healthy Smiles plans have additional cover with 60% cover for root canals, crowns, veneers and more.
Our Level 4 Healthy Smiles plan has cover for orthodontic treatment, subject to terms and conditions.