February is Children's Oral Health Awareness Month , and we will shine a spotlight on your child's oral health, sharing tips and tricks so that your child has the best start in life when it comes to a good Oral Health routine.
Celebrating children's oral health awareness month is vital as tooth decay remains the number one children's oral health related problem in Ireland today. 
Brushing for all ages
Whether it's preschool or primary school, there is an oral care regime to suit all age groups.
6 months to 2 years 
Clean teeth and gums with soft children's brush and warm water. Bring a child to the dentist before their 1st birthday and ask about when to introduce fluoride toothpaste.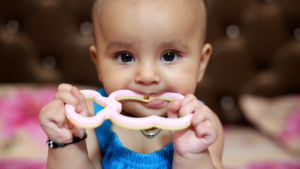 Teething
Teeth don't usually appear until your baby is around 6-8 months old. Teething can start from around 13 weeks.
Symptoms of teething are usually mild and include red and swollen gums, excess dribbling, loss of appetite, sleep disturbance. If there is a fever, rashes, vomiting or diarrhoea, bring it to your doctor's attention as this is not related to teething.
Teething rings can help soothe a baby's gums as well as distract them from the pain. Use teething rings that are big enough so your child will not choke on them & keep a spare clean teething ring in the fridge. Never tie a teething ring around a baby's neck – this could cause difficulty breathing.
Always check the product instructions on how long to cool the ring for. Never put the ring in the freezer as the temperature could be too cold and damage your baby's gums.
2 to 7 years
Use a pea size amount of normal adult fluoride toothpaste
Assist your child with brushing in the morning and at nighttime

Children should spit out after brushing and not swallow toothpaste. Remember – spit, don't rinse.

Delay brushing for 1 hour after snacking

Bring your child to the dentist once a year
Braces

Children may have problems with crowded/crooked teeth or with incorrect bites. Sometimes the problems are inherited while other problems are caused by factors such as thumb sucking or early loss of baby teeth.  Crowded, crooked or prominent teeth are usually treated with braces which can be either fixed (train tracks) or removable. The ideal time to start orthodontic treatment in a child is around 11 or 12 years of age to catch the growth spurt. Straight teeth are easier to keep clean and less susceptible to tooth decay and gum problems.
If a child is wearing braces, make time to keep their teeth and braces clean, brushing thoroughly every time you eat. Inter-dental brushes and flossing devices are also very helpful in removing trapped pieces of food. The dental team or orthodontist will be able to show special techniques for cleaning the braces and keeping teeth and mouth healthy. A high dose fluoride toothpaste or mouthwash containing fluoride may be recommended to prevent tooth decay.
Good brushing techniques
Use a soft bristle brush with a small compact head. Hard bristles can injure gums and wear down tooth enamel.

Brush at a 45 degree angle to the tooth and gum margin and use gentle scrubbing technique.

Brush the outer, inner and biting surface of each tooth, including the part close to the gum line.

Use the front tip of the brush for the inner surface of the front teeth.

Replace their toothbrush when the bristles look bent or worn. A change every two to three months is fine, unless your child is biting down a lot on it, then change it more frequently.
Let's ensure our Children have a lifetime of healthy smiles…
How DeCare encourage healthy smiles in Children?
At DeCare, we have a range of different children's dental plans to suit every budget and dental needs. Children can be added as a dependent to your own policy, and to some corporate policies or alternatively, child-only policies can be obtained. A child-only policy must be taken out by a parent/guardian but the policy will only cover dental treatment carried out on the child. All our children's dental plans cover dental examinations, cleaning and x-rays for your child and then each plan covers various dental procedures based on your plan level.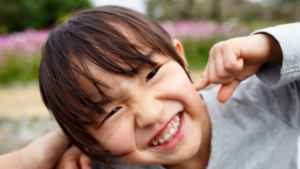 Dental Insurance from the Dental Experts
Protect your smile today with great value Dental Insurance.
All of our plans are based on our Healthy Smiles approach, which promotes regular and sustained preventive care by providing 100% cover for examinations, cleanings, and x-rays.
Our Level 2 Healthy Smiles plans have additional cover with 70% cover for fillings, extractions and treatment of gum disease.
Our Level 3 Healthy Smiles plans have additional cover with 60% cover for root canals, crowns, veneers and more.
Our Level 4 Healthy Smiles plan has cover for orthodontic treatment, subject to terms and conditions.