We all know that braces are the perfect way to give us a happy healthy smile. However, there are many things people don't know. Our DeCare experts are back with some top tips and to bust a few myths!
According to Orthodontists and Pediatric dentists, age 7 years is an ideal time to assess a child's oral and facial development.  Most orthodontic treatment is not carried out at this age; however, it helps to plan for the future so that treatment can start at the optimum time. If you don't end up getting braces as a child but feel during adulthood that you may need them, don't panic as with new technology, there is no age limit on when you can have orthodontic treatment. Speak to your dental professional if you wish to go down the road of braces.
Did you know that it is so important not to miss an orthodontic appointment, especially in the early stages? If you miss appointments, it may complicate treatment and you may need an extension to the length of time you have to wear them and end up with a less than ideal result. Your orthodontist will tighten braces during your visits so it is important to regularly monitor the effect the tightening has on the teeth and surrounding bone. So keep to that schedule!

Stick with cleaning and flossing! Some patients seem to think that you cannot clean or floss your teeth properly with braces on. This is NOT true. It is so important to floss and clean around the brackets and wires as food can get caught up in them. If you don't clean your mouth properly and use fluoride mouth-rinse and fluoride toothpaste, you are at risk of developing gum disease and tooth decay. Your orthodontist will guide you on how to follow the best oral health routine including the use of mouthwash and high dose fluoride toothpaste while you have your braces on. You can learn to loop your dental floss under and around the wires without causing damage. Yes, it takes more time, but it is worth it. For more information on how to prevent white spot defects appearing on your teeth, click here
Avoid foods that can damage your braces and your teeth. Some foods include ice, nuts, apples, peanut butter and hard sweets. Remember, your braces have a job to do, so keep them in good condition and also keep your teeth safe by avoiding sugary foods and drinks.
Don't forget to take your bands out when you are eating. This will prevent them from getting dirty and also stop them from snapping or breaking. If your braces break or snap while eating, this can be painful and you could end up swallowing a piece of your rubber band.
Many people believe that you can't play sports with braces. This is a myth! You can play all kinds of sports with your braces, just take precautions. Wear a mouth-guard if you have metal braces. Remember, with or without braces, it is important to protect your mouth when playing high impact sports.
You don't normally need extractions or oral surgery for successful orthodontic treatment. There are some exceptional cases where the upper and lower jaws are completely mismatched that may require surgery.  Wisdom teeth rarely cause orthodontic problems but may need to be removed for other reasons such as causing infection or damaging other teeth. Click to read our expert 'Wisdom on Wisdom Teeth' article here
Quite a dangerous myth out there is that when your treatment is over, your teeth will never go back to how they were before. This is incorrect information.  If you don't wear your retainer when your braces are removed, your teeth may shift once treatment is finished. Your teeth are vulnerable once braces are removed so remember to pop that retainer in and keep using a fluoride mouth-rinse and a high dose fluoride toothpaste and maintain that happy healthy smile.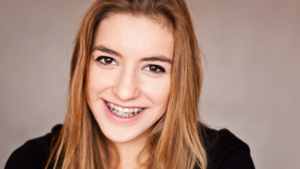 Click here to hear our DeCare experts speak about Orthodontic treatment Vs Veneers.
Dental Insurance from the Dental Experts
Protect your Oral Health at any stage in life:
All of our plans are based on our Healthy Smiles approach, which promotes regular and sustained preventive care by providing 100% cover for examinations, cleanings, and x-rays.
Our Level 2 Healthy Smiles plans have additional cover with 70% cover for fillings, extractions and treatment of gum disease.
Our Level 3 Healthy Smiles plans have additional cover with 60% cover for root canals, crowns, veneers and more.
Our Level 4 Healthy Smiles plan has cover for orthodontic treatment, subject to terms and conditions.
To find out more  –  get a quote today!